Ocean Energy
The electrical energy that powers our society is ultimately derived from three fundamental processes:
Gravitational energy, which causes the oceans' tides; tidal flows can be harnessed in various ways;
Nuclear energy of fission, which is used in nuclear power plants and is also the source of geothermal energy within the Earth;
Nuclear energy of fusion, the reaction by which our Sun, as well as all stars, converts hydrogen to the other elements and produces heat and light in the process.
By far the most energy we use is derived from the last of these, but only indirectly. This is because the Earth's various systems—the atmosphere and oceans; the biosphere—convert the Sun's heat and light to the more familiar forms of energy that we use for generating electricity.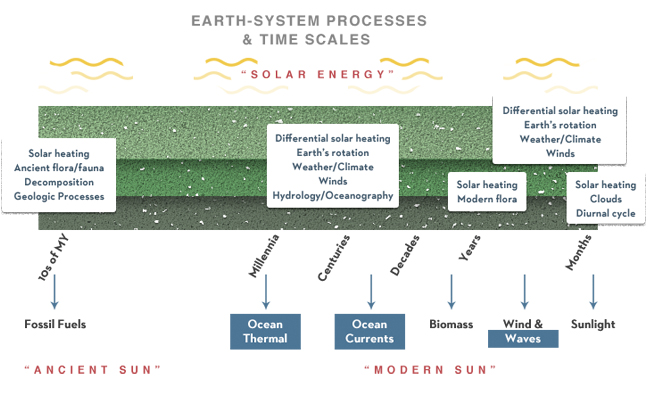 Fossil fuels may be thought of as "ancient" solar energy, and the other forms, all considered to be renewable energy, come from the "modern" sun. The energy of ocean currents and waves, as well as ocean thermal energy, all fall into this category.